The Pelvic Path:
Inform. Integrate. Empower.
Women often experience physical issues during and after pregnancy, and throughout life. Both men and women experience shame or embarrassment, wondering if pelvic floor issues are normal or not normal. These issues can get in the way of work, parenting, and the demands of life. We provide an individualized and evidence based approach to guide you back to a confident, empowered, and healthy life.
Some of the issues our patients experience include:
Incontinence (leakage with cough/sneeze/exercise)
Urinary frequency or urgency
Pelvic pain or pelvic floor issues
Diastasis Recti
Pain with intercourse
Pelvic Organ Prolapse
The Pelvic Path offers a proven 3 step process to empower you with healing and education to bring you back to health and healing.
Find Real Cause of Your Pain
We'll take you through a comprehensive biomechanical assessment and identify the cause of your problem. Then we'll explain what must be done to get you back to full speed and back to the activities you enjoy.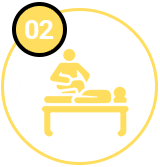 Fix Your Problem Areas
We'll develop a treatment plan that will be tailored specifically to you and your goals. This will ultimately allow us to get you stronger, pain-free, and on track to reach your goals more effectively and efficiently.
Return To The Activities You Love
After we treat your current symptoms, our focus will shift to optimizing your physical health and well-being. We'll strive to ensure you reach and maintain top condition through preventive strategies going forward.